Magic Yarn Ball
(
noun, abbr.

MYB
): A ball of yarn filled with most excellent goodies wrapped within, to be found as the ball is unwound. Also comes with knit/crochet pattern for the yarn to be completed.
If you haven't been on
craftster

.org
, I highly suggest it. It is a forum website for all things crafty, where you can share ideas, ask for help, show off your new crafty accomplishments and so much more. My friend turned me on to the craft swap section of the forum where swaps are arranged based on a theme and you are paired with a fellow forum member to do the exchange.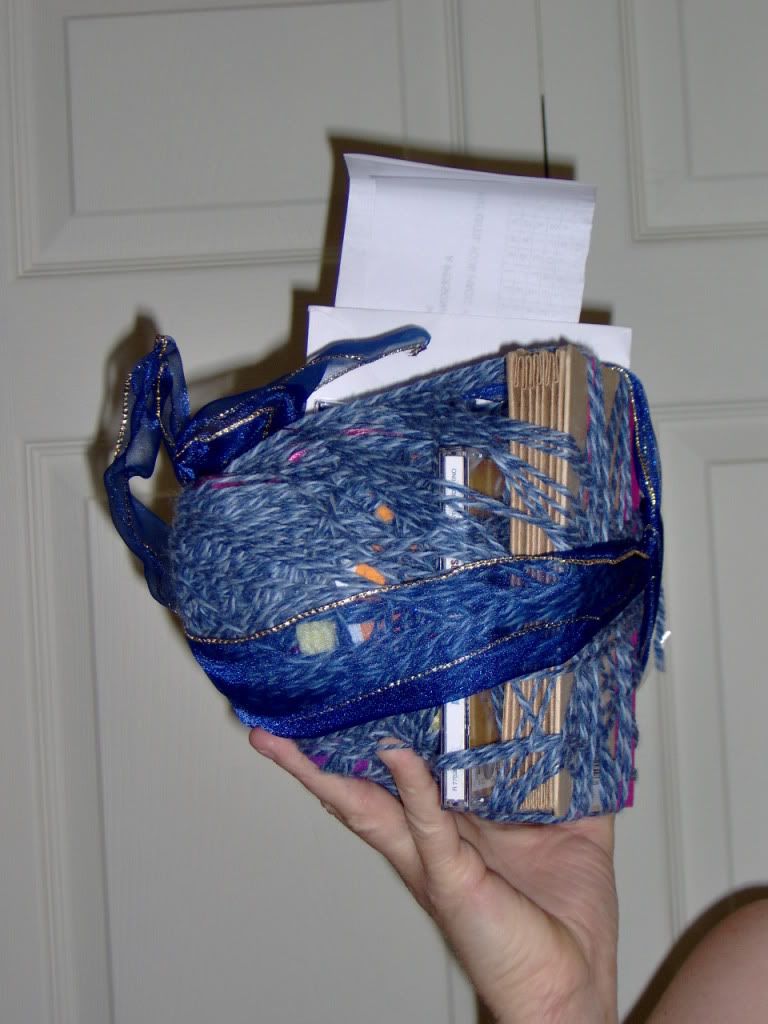 For my first swap, I did the Magic Yarn Ball swap, (as defined above). I sent my partner some denim color
Patons

Merino Wool
, as she said she wanted to felt her project, and the pattern was the
Sophie
bag from
Magknits
.
My partner received her
MYB
this weekend and posted pictures to share. Included was a
keychain
, 2
CDs
, a foot pampering set (toe separators, nail polish and foot scrub), a selection of teas, princess soap, a lollipop
tea light candle
, Skittles
lip balm
and an index card/coupon organizer. The handmade items I included were a crochet coin purse, a knit pouch with flower, a peach cat's eye bracelet, gift tags, bookmark, photo note card and a pink accent crochet flower. I also made a word search for these items, with the key in a letter that was only to be opened once the yarn was unraveled!
I'll be putting up pics of mine once I have it in hand. I'm still deciding whether I want to knit the project as I unwind or whether I'll just get over excited and feel the need to unwrap everything at once. I guess I'll decide once I get it! In the meantime, I've signed up for my next swap - this time around we're making and exchanging stitch markers!!